Hastings Pier share scheme raises £470,000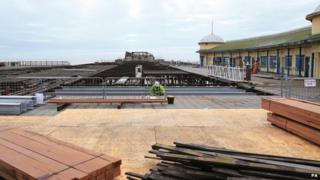 More than £470,000 worth of shares have been sold to aid the restoration of a seaside pier that was ravaged by fire more than three years ago.
Hastings Pier is being rebuilt with £14m of money raised mainly through the Heritage Lottery Fund.
The charity behind the restoration has offered £500,000 community shares to fund attractions for the 140-year-old pier and make it financially viable.
The share offer, which opened in October, is due to close on Saturday.
'Funfairs and circus'
Hastings Pier Charity's Chief Executive Simon Opie said: "The £500,000 isn't a ceiling, more a target and we'd be delighted to push past that if we can."
Up to 95% of the Grade II-listed structure was damaged in an arson attack in 2010, following years of neglect.
Restoration work started in December, with the first planks of wooden decking being laid in March.
It is hoped the structure will reopen in spring 2015.
Plans for the pier include funfairs, a circus, an open-air cinema and theatre, farmers' markets and a heritage centre.
More than 1,900, mainly local, people have invested in the community share scheme so far, according to the charity.