Brighton refuse workers could strike again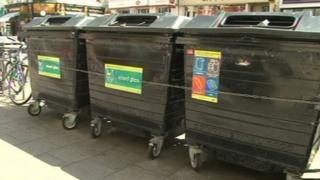 The GMB union has said it has written to the chief executive of Brighton and Hove City Council to demand a meeting over refuse collections.
It claimed the authority had repeatedly failed to consult with staff on the reorganisation of rounds, which it said was "causing chaos".
The union plans to ballot for strike action if a meeting is not held.
Brighton council said managers had been working closely with staff and union representatives to find a solution.
Last summer, collectors walked out for a week following a row over pay.
'Very demoralised'
Mark Turner, GMB representative, said the council and local managers had imposed a service that was "not fit for purpose", and members were not able to complete their workloads.
Managers had taken five vehicles and crews off the road and it was impossible to meet targets, he said.
And Mr Turner added the ageing vehicles were constantly breaking down.
"We've given the council until tomorrow [Friday] to respond if they want to meet us and sort this horrible mess out," he said.
"If not, then we will then move forward and ballot our members who are feeling very demoralised."
The council's Executive Director Geoff Raw said managers had been working to find a solution that ensured staff were working safe and manageable shifts under a pay and allowance system that was affordable, consistent and compliant with equal pay legislation.
"We have suggested a number of options, we will continue to work together with the trade unions to find a deliverable solution and we'll be meeting with them next week," he said.
"We recognise it has been a difficult year for all concerned.
"We would be very dismayed if residents were to experience further disruption to their refuse and recycling collections at a time when we are all focused on making sure they have a reliable and consistent service."