Balcombe fracking protest police awarded 25% of cost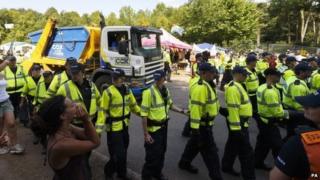 Sussex Police is to receive £905,000 from the Home Office to put towards the cost of controlling last summer's anti-fracking protests in Balcombe.
The overall cost of the policing operation amounted to almost £4m.
Sussex Police and Crime Commissioner Katy Bourne applied to recover some of the costs under the Home Office Special Grant rules.
It was also agreed that if the force faced further shale gas protests all costs would be refunded in full.
Fracking protesters from around the country gathered at Balcombe in West Sussex during the summer as energy firm Cuadrilla carried out test drilling for oil.
More than 1,000 people set up camp at the height of the protests in August.
Mrs Bourne said the "unforeseen cost" of protest policing had put a huge amount of pressure on the police budget, and she was delighted that nearly a quarter of the total amount was to be refunded.
"As PCC I felt it was unfair to burden local taxpayers and I was committed to seeking government support," she said.
Mrs Bourne said the remaining £3m would be met from the force's operational reserve budget.