Fire destroys Phoenix Theatre and Studio in Lewes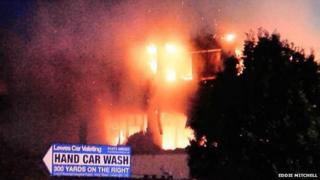 A massive fire has destroyed a theatre and studio complex in East Sussex.
The blaze ripped through the Phoenix Theatre and Studio building on North Street in Lewes on Saturday evening.
The fire service received 23 calls from members of the public who spotted the blaze when it broke out at just after 18:00 GMT.
Fire crews were joined by Environment Agency staff who carried out tests to ensure there was no contamination from asbestos in the roof.
'Acrid smell'
Witness Adrian Sunderland said someone had hired the newly refurbished theatre for a private event.
"They were setting up in there and a band was setting up their instruments and equipment and all of a sudden we smelt burning, smoke with an unusual acrid smell," he said.
"We looked round and saw smoke pouring out of the corner of the theatre.
"We went running over with a fire extinguisher, thought 'well maybe it's just a small fire', went in and the whole building was just well alight."
Mr Sunderland said the group left the building and called the fire brigade.
He went into the building when everyone was out and his jumper was burned by embers falling from the ceiling, he added.
"Within a few minutes, the whole building just erupted into flames completely," he said.
"The speed at which it took hold was phenomenal."
'Sobbing'
Mr Sunderland said artists had lost their "entire life's work" in the studios upstairs.
"It's really heartbreaking for them," he said. "People were down here sobbing their eyes out this morning.
"It's a big tragedy for the whole community."
The fire was brought under control at 21:15, but there has been enormous damage to the building.
Nobody was injured, a fire service spokesman said.
He added: "This particular the incident had the potential of being quite disastrous.
"Thankfully the occupiers identified the fire early and we managed to make an intervention which, although there's significant damage to the building, we stopped the fire from spreading to adjacent areas."
The theatre and studios, on the Phoenix Industrial Estate, cater for arts and media projects and events.