Caroline Lucas trial: Balcombe anti-fracking demo was 'symbolic'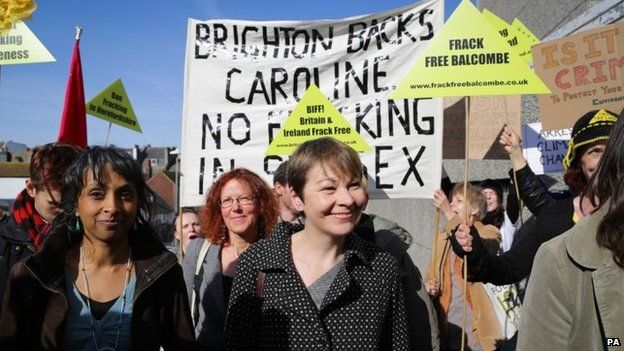 Green Party MP Caroline Lucas has defended her decision to take part in an anti-fracking protest in West Sussex and told a court it was important and symbolic to be there.
She told Brighton Magistrates' Court it was a bid to prevent the UK being locked into using more fossil fuels.
Ms Lucas was arrested in August after a protest in Balcombe where energy firm Cuadrilla was test-drilling for oil.
The MP and four others deny obstructing the highway and a public order offence.
"I'm haunted by the idea that my children and my children's children will turn round to me and say 'what did you do about this overwhelming threat?'," she said.
"And I want to do all I can do peacefully to address that before it's too late."
'Disproportionate police tactics'
She also said she felt the protest was a "legitimate" and "appropriate" way of sending a message to the government.
The court heard Ms Lucas joined protesters outside the Cuadrilla site, which she said was not operating at the time.
The demonstration, in which protesters linked arms, lasted about five hours.
Later, police asked Ms Lucas to move but she replied "no" and was arrested, the court has been told.
Ms Lucas denied she was told about a designated protest area elsewhere and added: "I couldn't see any reason why we couldn't continue our peaceful protest."
She said campaigners were talking about wrapping up the protest before police moved in.
"I was aware that the police tactics looked disproportionate," Ms Lucas added.
She also said her son had been sitting next to her and was held by police. She added: "I was aware that my son was in pain and I was very upset about it.
"If we had another 10 to 15 minutes, we could have come to an agreement to end it and dispersed.
"We weren't doing anything different than we were in the previous five hours."
She said she could not see any obvious reason for the protesters to be arrested and added they were not providing any kind of obstruction.
But the MP said: "I am aware that peaceful protests are becoming criminalised."
Prosecutor Jonathan Edwards said Ms Lucas's presence as an MP was significant and would have attracted more interest than "ordinary demonstrators".
During cross-examination, Ms Lucas said she did not believe the protest would have had the same impact if it had taken place away from the main gate.
She claimed it would have been clear to police that demonstrators were discussing whether to move on.
Police did not mention to her at any point a requirement for emergency access to the site, she added.
When she was asked if the protesters' song "we shall not be moved" was an indication of defiance of the police, Ms Lucas said: "It was more the fact that we were singing together rather than the words we were singing. It's a song of strength."
The five defendants; Ms Lucas, 53, from Brighton; Josef Dobraszczyk, 22, from Bristol; Ruth Jarman, 50, from Hook, Hampshire; Sheila Menon, 42, from north-east London, and Ruth Potts, 39, from Totnes, Devon, deny wilful obstruction of the highway and breaching Section 14 of the Public Order Act.
The case was adjourned to 17 April when verdicts will be given after evidence is taken from Ms Jarman.
Related Internet Links
The BBC is not responsible for the content of external sites.