Brighton's first same-sex wedding makes city history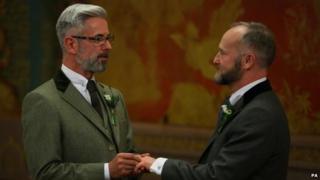 An actor and a guesthouse owner have made history by becoming the first same-sex couple to marry in Brighton.
Andrew Wale and Neil Allard's wedding was the first held in the music room of the Royal Pavilion and the city's first late-night ceremony.
The couple, who live in Brighton and have been together for seven years, won a competition to be the first to marry, at 00:01 GMT on Saturday.
"We are so privileged to live in an age where we can do this," said Mr Allard.
"I never expected it - not in my lifetime."
Five same-sex couples are tying the knot in Brighton on the day the law allowing gay marriages in England and Wales comes into effect.
James Preston and Phil Robathan were the first to be married at Brighton Town Hall at 08:00 GMT, where Brighton Gay Men's Chorus was singing.
Ahead of the wedding, Mr Allard said he and Mr Wale were nervous but excited.
"Inviting all our close friends and family has been brilliant," he said. "We made the commitment to each other three years ago and so we have just been waiting for this just to show our love for each other.
"It is great to be able to show the world a different side to love and marriage."
Registrar Trevor Love, who conducted the ceremony, officiated at the city's first civil partnerships in 2005.
He said he was conscious of the historic nature of Saturday's ceremonies.
"I am quite nervous about it but my main focus will be on Andrew and Neil," he said.
"It is their wedding day and we don't want anything detracting from that. It is two people declaring their love for each other and getting married."