Sussex PC tells of MP Caroline Lucas anti-fracking arrest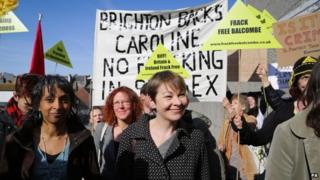 A police officer who arrested Britain's only Green Party MP during anti-fracking protests in West Sussex has told a court how she refused to move before she was taken into custody.
PC Robert Staplehurst told Brighton magistrates he approached Caroline Lucas and placed his hand on her back before he asked her to move.
He said he called her "Caroline" and spoke in her right ear.
The MP and four others deny obstructing the highway and a public order offence.
In police interview, the MP said she took part in the protest to "express solidarity" with protesters and send a "clear message to the government that fracking is not needed or wanted", the court heard.
PC Staplehurst said he recognised Ms Lucas among protesters outside a site in Balcombe where energy firm Cuadrilla was test-drilling for oil on 19 August.
"I approached Caroline Lucas, placed the palm of my left hand on her back and spoke in her right ear in order that she knew I was speaking to her," he said.
"I addressed her as Caroline, she acknowledged I was there."
'Legitimate protest'
He said he told the Brighton Pavilion MP she was obstructing the highway and asked whether she was going to move of her own accord but the reply was "no".
PC Staplehurst said: "I went on to explain that if she failed to do as I required then she would be arrested. The answer was 'no'."
He also said he explained to the MP there was a designated protest area 50m (160ft) north.
The police officer said he arrested Ms Lucas, because she had breached a notice under the Public Order Act and obstructed the highway, and cautioned her.
Ms Lucas was escorted to a waiting police vehicle to be taken to the custody centre, he added.
The court saw footage in which PC Staplehurst is heard to say: "I require you to move. Are you going to move of your own accord?"
He was also heard to say: "Just bear in mind you will be arrested... is there anything that I can say that is going to make you move? In that case, Caroline, I'm arresting you."
Tom Wainwright, representing Ms Lucas, questioned PC Staplehurst over his account that he had explained to her where the designated protest area was.
The officer replied: "From my memory of the day I did explain where it was."
The court heard when Ms Lucas was interviewed by police, she told them it was important to her the protest was non-violent and that Cuadrilla was not working at the site at the time.
She told officers: "It seemed to me to be a very legitimate form of raising awareness on a very important issue."
The MP also said it felt as if the village had welcomed campaigners into their community "because people are genuinely worried about the energy policy of this government".
Ms Lucas told police she did not comply with police demands to move because she felt it was "disproportionate" and she said: "No-one seemed inconvenienced at all by us being there."
All five defendants - Ms Lucas, 53, from Brighton, Josef Dobraszczyk, 22, from Bristol, Ruth Jarman, 50, from Hook, Hampshire, Sheila Menon, 42, from north-east London, and Ruth Potts, 39, from Totnes, Devon - deny wilful obstruction of the highway and breaching Section 14 of the Public Order Act.
The case was adjourned until Friday.