Fracking protesters' trial: Police 'had to carry limp protester'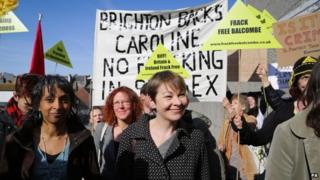 A protester went "limp and lifeless" when arrested at a drilling site and had to be carried away by police, a court has heard.
Ruth Jarman refused to comply with one officer's instructions at the site near Balcombe, West Sussex, Brighton Magistrates' Court was told.
Ms Jarman is on trial alongside Caroline Lucas, Green MP for Brighton Pavilion, and three other defendants.
They deny wilful obstruction of the highway on 19 August last year.
Ms Lucas, 53, from Brighton; Ms Jarman, 50, from Hook, Hampshire; Ruth Potts, 39, from Totnes, Devon; Josef Dobraszczyk, 22, from Bristol; and Sheila Menon, 42, from north-east London, have also denied an offence under the Public Order Act.
Footage showed Ms Jarman refusing to respond to police requests when she was separated from a group who had linked arms and were sitting in the emergency entrance to energy firm Cuadrilla's drilling site.
Protesters 'non-compliant'
Sussex Police officer PC Alan Harris told the court he arrested Ms Jarman and Ms Potts.
He said that he had spoken to several protesters and gave them time to discuss whether they were going to move to an area designated by police for protest.
PC Harris said he explained the offences they might be committing and added that if they did not comply they risked arrest.
The court was told that demonstrators were passive, non-compliant and had to be physically taken away from where they were sitting after they were arrested.
Leon Jennings, health, safety, security and environment director for Cuadrilla, said drilling was halted during the height of the protests because police advised that the firm was unlikely to get vehicles on and off the site.
'Intimidation and scaremongering'
He told the court there were 27 security staff on site and police officers who needed to be provided with fresh food and water and toilet facilities, and that deliveries of fresh supplies still needed to be made.
He said he and his staff were subjected to "intimidation" and "scaremongering" by some of the protesters, but that he had no problem with anyone making a peaceful protest.
Tom Wainwright, representing Ms Lucas and Ms Potts, said: "You were thoroughly fed-up... certainly by the end of the operation in September, with the fact there were protests going on outside."
Mr Jennings replied: "Peaceful protest is a human right and we accept that. As soon as we start to get abuse to staff it's a different situation, and staff were intimidated and upset by that."
Mr Wainwright said: "You have exaggerated the behaviour of those protesting because of how you feel about them, haven't you?"
Mr Jennings replied: "Not at all."
The trial continues.