Caroline Lucas trial: Protest negotiations 'lasted two hours'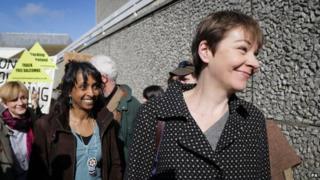 Police tried to negotiate with fracking protesters blocking an emergency entrance to an exploratory drilling site for over two hours, a court heard.
Green MP Caroline Lucas was among the protesters who linked arms or locked themselves to others at the Cuadrilla site in Balcombe, West Sussex.
Police said the safety of demonstrators and staff was the "overarching aim", Brighton Magistrates' Court heard.
Ms Lucas denies wilful obstruction of the highway on 19 August, last year.
The Brighton Pavilion MP also denies breaching Section 14 of the Public Order Act during demonstrations outside the energy company's site.
'Not containing people'
Josef Dobraszczyk, 22, of Bristol; Ruth Jarman, 50, of Hartley Wintney, Hampshire; Sheila Menon, 42, of Stoke Newington, north-east London, and Ruth Potts, 39, of Totnes, Devon, are charged with the same offences. They all deny the charges.
The trial was told Supt Jane Derrick liaised with officers on the ground who were trying to get the demonstrators to move from the only emergency access to the site.
On 19 August, officers were sent to ask demonstrators to move away because it was a Section 14 area that was not designated for protest, the court heard.
Supt Derrick said: "We used a tiered response, asking people to unlock themselves, get up and to walk away from the entrance.
"We were not containing people, we were allowing them to walk away from that area."
Arrest warning
She told the court officers spent more than two hours trying to negotiate with the protesters but were told they wanted to remain in front of the entrance all day.
Due to the nature of the equipment being used, there needed to be emergency access maintained at all times, Supt Derrick said.
"I made it very clear to them that I was willing to negotiate and that being there all day was not acceptable and that if they continued not to comply then the likelihood was that they would be arrested," she told the court.
Tom Wainwright, representing Ms Lucas and Ms Potts, asked Supt Derrick about the number of people at the site at any one time and how many tents were camped along the roadside.
She told the court that there were up to 150 tents at the height of the protest and that from 25 July, when the protest started, there were perhaps 60 to 500 people present at any one time.
Mr Wainwright asked: "During the period you were in control from 25 July onwards is it fair to say there had been no emergency callouts to the site?"
"Not that I was aware of when I was on duty," Supt Derrick replied.
The trial continues.