Caroline Lucas trial: MP's arrest shown in court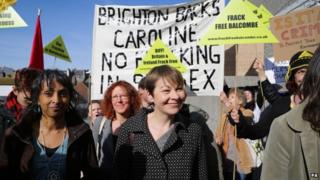 The moment Green MP Caroline Lucas was arrested during fracking protests in West Sussex has been shown in court.
The DVD showed the Brighton Pavilion MP being asked to move away from an emergency access entrance to the exploratory drilling site at Balcombe.
Ms Lucas, who was sitting with other protesters, did not move because she wanted to show solidarity, the trial at Brighton Magistrates' Court heard.
She denies wilful obstruction of the highway on 19 August.
The 53-year-old, from Brighton, also denies breaching Section 14 of the Public Order Act during demonstrations outside energy company Cuadrilla's exploratory oil drilling site on the outskirts of Balcombe.
In the footage, an officer was heard asking Ms Lucas if there was anything he could do that would make her move but she refused and was arrested.
Josef Dobraszczyk, 22, of Bristol; Ruth Jarman, 50, of Hartley Wintney, Hampshire; Sheila Menon, 42, of Stoke Newington, north-east London, and Ruth Potts, 39, of Totnes, Devon, are charged with the same offences.
They all deny the charges.
'Blocking access'
Prosecutor Jonathan Edwards said conditions were imposed under Section 14 of the Public Order Act between 16 and 21 August at Balcombe because of the sheer number of protesters.
They were deemed necessary by police so there was a designated area to protest without blocking access to the site.
But on 19 August, 300 demonstrators gathered outside the site, meaning the B2036 London Road had to be closed, the court heard.
Mr Edwards said: "Some demonstrators had chosen to sit down in the entrance to the site and thereby were blocking access to it."
The court was told a loudhailer was used to read out the Section 14 order to protesters, and officers then entered the crowd to explain.
Copies were also given to demonstrators and police DVD footage showed Ms Lucas with the order in her lap.
During a police interview, the MP told officers that when she sat down there was no indication of a designated area for protesters, the court heard.
She also said she had wanted to send a clear message to the government that fracking was not needed or wanted and she did not believe she was blocking anyone trying to gain access as no drilling was taking place that day.
She said she had scanned the Section 14 notice when it fell into her lap and understood the gist of it but did not move because she wanted to show solidarity to the other protesters, the court heard.
Supporters cheering
Mr Edwards told the court the other defendants will argue the Section 14 notice was unnecessary, unreasonable and disproportionate and they were unclear or unaware of the conditions imposed.
About 100 supporters gathered outside the court before the trial and waved placards and banners, danced, sang and played music.
They cheered as Ms Lucas and the other defendants walked up to the court building.
The trial continues.