First Triumph Spitfire car returns to UK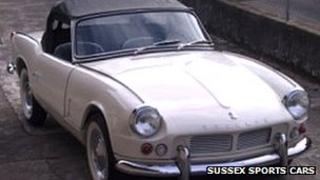 The first Triumph Spitfire to come off the production line at its factory in Coventry in 1962 is to return to the UK after being sold by its Swiss owner.
The fully-restored vehicle was sold for an undisclosed sum to an anonymous buyer after Lewes-based Sussex Sports Cars marketed it online.
The firm's Gerry Wadman said: "There was a lot of interest in the car although it did take a while to sell.
"The owner is delighted to have got it back to the UK where it belongs."
Its former owner, a financial consultant, restored the vehicle using Triumph parts.
Wind-up windows
He had been asking £45,000 for the hand-built two-seater.
The car was assembled at the Standard-Triumph Canley plant in Coventry - the very first in a marque that was to help transform the ailing firm's fortunes - and boasts chassis number FC1.
Its original retail price of £641 meant that unusually, it was a quality sports car at an affordable price, featuring the latest features, such as wind-up windows.
Mr Wadman said: "We went to Geneva and the buyer tried it out in the snow and the next week it was shipped back to England."
He added that the classic car would stay in the UK as part of a collection of about a dozen motor vehicles.