Worthing Birdman contestant Steve Elkins told to pay £20,000 costs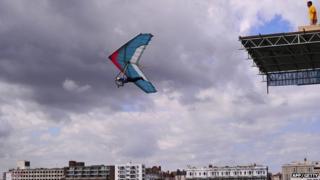 A competitor in the Worthing Birdman competition in West Sussex has been ordered to pay £20,000 in legal costs following a lengthy battle with the organisers.
Steve Elkins, from Derbyshire, claimed he reached the 100m mark in 2009 which entitled him to the £30,000 prize.
He lost the case and has now been told to pay more than £20,000 in costs to the Worthing Town Centre Initiative.
The decision was made at a court hearing earlier this week.
Mr Elkins flew for 13.68 seconds in August 2009, registering an official distance of 99.86m.
A review of his flight ruled he fell 14cm (5.5in) short of winning the £30,000.
He took the organisers to court in 2011 and judgement was handed down in February at Brighton County Court.
The ruling on the legal costs was made on Tuesday
Mr Elkins told BBC Radio Sussex he was "devastated", adding: "It was not a nice end to the situation at all."
He said "in hindsight" he might not have taken legal action.
"I think mainly, from my point of view, there's quite a lot of evidence - not my own, BBC and local evidence," he said.
He said he had started the process of selling his business to try to pay the costs and would "never dream of" taking part in the competition again.
"I think they've got to be honest before people go there," he said.
"Unfortunately I think it's been rather damaging for the whole event which is a shame - a great shame.
"But they do need to make sure that things like on-demand video is actually available for people to watch."
Competition organiser Sharon Clarke said: "We never wanted to go down the route of legal proceedings - we did try to speak to Mr Elkins.
"We won the case but this is not where we want to be.
"Obviously we've had a lot of cost - real cost that we've had to pay out and it's now our duty to try to recover that because that's money to be spent on Worthing."
The Birdman event was created in 1971 in Selsey, near Chichester, and the event was moved to Bognor Regis in 1978.
The competition was moved to Worthing for two years in 2008 amid fears over the stability of Bognor pier.
But when the event returned to Bognor in 2010, the Worthing version remained.