Hastings 'helter-skelter' sculpture vetoed by council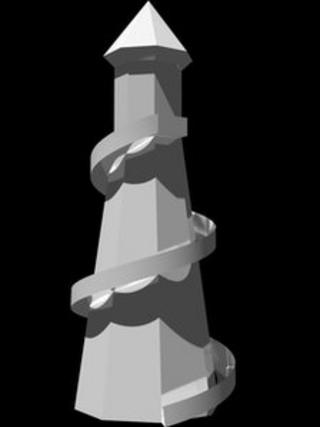 Plans for a privately-funded £100,000 "helter-skelter" sculpture that would have replaced a town's fountain have been turned down by a council.
Philanthropist David Kowitz had planned to put up the large sculpture on the Pelham roundabout in Hastings.
It was intended to symbolise the town's status as a holiday destination and former Cinque Port.
However, Hastings Borough Council's planning committee rejected the idea, saying it was "inappropriate".
The 13m-high (42ft) artwork, by British artist Henry Krokatsis, would have been cast in polished aluminium, with the texture of rough-hewn wood.
It had been chosen by a panel following a competition.
Council leader Jeremy Birch said: "The planners thought the bulk, the scale and the mass of this project on that particular site was not appropriate.
"I had a chat with the benefactors and said, 'Let's consider perhaps other prominent sites in the town where it may fit'.
"They were not keen on that, and that's their right, of course."