Human remains found in Cambodia 'not missing backpacker'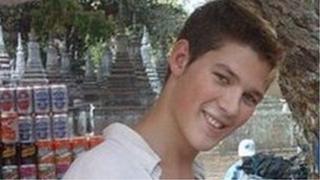 The family of a British backpacker who went missing in Cambodia 10 years ago have been told human remains which were found are reportedly not his.
Eddie Gibson, from Hove, East Sussex, disappeared in October 2004, when he was 19 years old.
His family were initially told that bones, including a skull, discovered near a lake in Poipet on the Cambodia-Thailand border, could be his.
But police in Cambodia have said the remains belong to an Asian person.
'Assembling the skeleton'
Eddie's family were phoned on Monday by a private investigator in Cambodia, who had been notified by police of the discovery.
His father, Mike, had said the family were "waiting with bated breath" for confirmation of whether the remains were his son.
Dental records were being sent to South East Asia to help with the identification process.
But on Wednesday, the Cambodian Daily newspaper quoted provincial police chief Kheng Soum, who said: "After police carried out tests on the bones we concluded that they belong to an Asian person between 30 and 40 years old and that the time of death was about five years ago."
Not on board
Mr Gibson said he was treating the information coming out of Cambodia with caution.
He added: "The information we were given contradicts what we have subsequently heard."
Sussex Police said they were aware of the find and were supporting the family.
Mr Gibson last made contact with his family on October 24 in an email, saying he was "really looking forward to coming home".
They went to meet him arrive in the UK from a flight that left Bangkok, Thailand, on 1 November, but he was not on board.
The family believe Eddie was murdered on his way back from Phnom Penh.
He was three weeks into a combined Asian and Pacific studies and international management course at Leeds University when he went travelling.