Ford Open Prison staff 'shortage risks safety'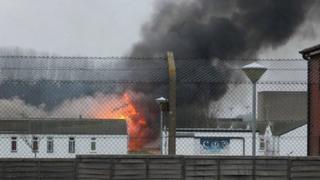 Staff shortages at a prison in Sussex will have a "serious effect" on its running, a monitoring board has warned.
The Independent Monitoring Board report for Ford Open Prison, near Arundel, found resultant stress on staff has led to an increase in levels of sickness.
The association which represents officers at Ford said safety was at risk, but the Prison Service said problems had been addressed.
On 1 January 2011 staff lost control of the prison as inmates rioted.
The report said there were 150 staff working at the prison in October 2013, down from 160 the year before.
It blamed "cost cutting" for the reduction.
It states: "The board fully recognises the need for cost cutting and accepts that this will have an effect on manpower.
"However, the board is very concerned that the level of reduction in staff is likely to have a serious effect on the efficient running of the prison."
Jackie Marshall, the local representative for the Prison Officers' Association, said: "Staffing shortfalls will impact upon public safety. "
However, a Prison Service spokeswoman said: "Concerns around staffing levels have been addressed with prisoner officer levels adjusted to match the operational needs of the establishment.
"Sickness absence levels at HMP Ford are significantly lower than for the same period last year, and night staffing levels have since been increased.
"This report will now be considered fully by ministers, who will respond in due course."