Sussex Police examine Bronze Age fingerprints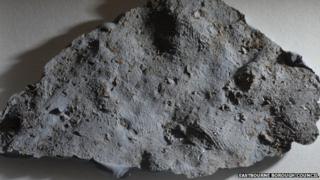 Bronze age fingerprints found in East Sussex are being shown at an exhibition - after one of them was examined by scenes of crime officers.
The officers, from Sussex Police, took photos and a silicon impression of a half-fingerprint, found on a piece of pottery at Shinewater in Eastbourne.
The 2,000-year-old print was found to be in "fairly good condition".
Experts said that other pieces of pottery made by the same person could possibly be identified from it.
The pottery was found at the Shinewater Bronze Age settlement, said to be the largest bronze age village to be discovered in Europe.
Jo Seaman, heritage officer at Redoubt Fortress and Military Museum, said: "I wondered whether the police would be able to lift the fingerprint from the piece of 2,000 year-old pottery.
"We might find out, if we're really lucky, that the fingerprint appears on other pottery, which shows that one person is responsible for a lot of pottery."
Pottery featuring prints from a little finger with "quite a long nail", dating from from around 3500 BC, also features in the exhibition.
Mr Seaman said fingerprint impressions on wet clay were a well-known form of decoration on pottery made during the period.
"There's nothing more personal than a fingerprint - they're so individual," he said.
Eastbourne Borough Council's museum service was awarded a grant of £72,000 by the Heritage Lottery Fund for the Eastbourne Ancestors project.
The exhibition also features the reconstructed face of the so-called Beachy Head Lady, a woman from sub-Saharan Africa who was buried at the beauty spot in Roman times.
Eastbourne Ancestors will run at Redoubt Fortress and Military Museum until 16 November.