Brighton council action to move travellers from Wild Park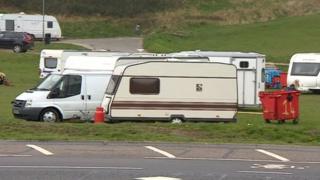 Legal action is being taken to remove travellers who gained unauthorised access to a Brighton park.
About 20 caravans arrived in Wild Park in Moulsecoomb last Thursday.
The council said that gates allowing access to Wild Park were only opened for safety reasons after the group arrived.
On its own website, Brighton Council said Irish Travellers with two trailers had been served with notices at Wild Park.
Legal action was also under way, it said, over another group of Irish Travellers and English Gypsies with 17 trailers on the site.
BBC reporter Natalie Graham said Brighton's permanent travellers' site had 23 pitches but only seven were occupied earlier on Tuesday.