Brighton arrests after bottles thrown at police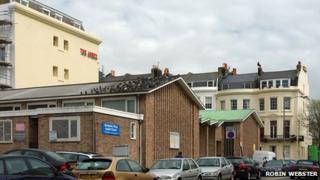 Three men have been arrested after bottles were thrown at police officers and the public from the roof of a church in Brighton.
Bottles and other objects were thrown when officers were called to a report of men on the roof of Montpelier Place Baptist Church on Saturday evening.
The police car's windscreen was smashed by container with paint in it.
The suspects, aged 19, 20 and 21, were found in nearby gardens and arrested on suspicion of criminal damage.
They have been released on police bail until 7 May, pending further inquiries.
Nobody was hurt by the thrown objects, but a police officer fell during a search of the church and was taken to hospital with chest injuries.