Gatwick promises £1,000 second runway compensation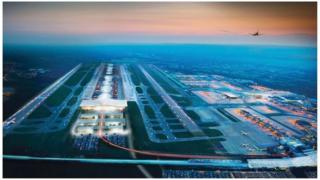 Thousands of households affected by noise from a possible second runway at Gatwick would be given £1,000 a year in compensation if it is built, the airport's boss has said.
CEO Stewart Wingate said the cash, equivalent to Band A council tax, would help negate some of the impact.
It is estimated that 4,100 households in Sussex and Surrey would qualify.
A second Gatwick runway is one of the options currently being considered by the Airports Commission.
Other options include another runway at Heathrow and an airport in the Thames Estuary.
Mr Wingate said: "How we best compensate communities affected by major infrastructure projects is an issue facing a growing number of sectors - from aviation to energy.
"Our proposal would see the people most affected by expansion at Gatwick receiving monetary compensation."
Gatwick claims to be the UK's second largest airport and the busiest single-runway airport in the world.