Birling Gap cliff falls bring cottages closer to edge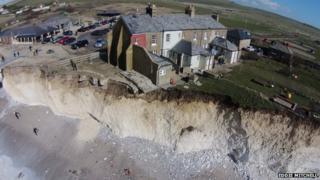 Two more sections of coastal cliff have fallen at Birling Gap in East Sussex.
Witnesses said they saw part of the paving of the coastguard cottages collapse on to the beach.
The row of cottages had already ended up closer to the edge after the cliffs between Seaford and Eastbourne suffered seven years' of erosion since January.
Adrian Harrison, from the National Trust, which owns the site, said storms, high tides and heavy rain had made the cliffs more liable to faults.
"We have been a little bit surprised by how much has come down this winter," he said.
The National Trust has already demolished the sun lounge at its cafe after those parts ended up too close to the edge of the cliff, but the cafe is still in use.
It said it owned three of the remaining coastguard cottages and was in contact with the private owner of the cottage closest to the edge to give what help it could.