Hastings Pier reconstruction: First decking planks laid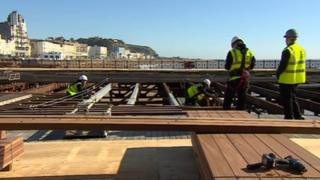 The first planks of wooden decking are being laid at Hastings Pier in East Sussex.
The work marks the start of a new phase in the £14m project to bring the landmark back to its former glory.
Up to 95% of the 140-year-old pier was damaged in an arson attack in October 2010, following years of neglect.
Some 45 miles (72km) of decking will be laid before the pier is set to reopen in spring 2015.
Most of the money for the restoration has come from the Heritage Lottery Fund.
The Hastings Pier Charity is aiming to raise a further £500,000 by selling shares in the Grade II listed structure.