Joint Newhaven fire and police station planned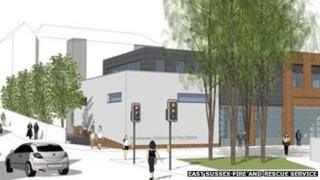 A joint fire and police station, together with a council "one-stop shop" is planned for an East Sussex town.
The building in Meeching Road in Newhaven will replace the fire station in Fort Road and provide access to Lewes District Council services.
Sussex Police's neighbourhood policing unit will move from the South Road police station when the building is completed.
The land has been bought by East Sussex Fire and Rescue Service.
An exhibition of plans for the site is being held on 8 March in Newhaven and the planning application is expected to be submitted in April.
Councillor Phil Howson, chairman of the East Sussex Fire Authority, said: "By working together and sharing facilities, it aims to deliver significant savings to each organisation, both in terms of build and future running costs."