Eastbourne man urges people to stop feeding seagulls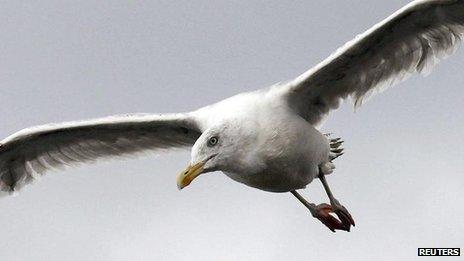 A man who has been attacked by seagulls 12 times has called for more to be done to stop people feeding the birds.
The Eastbourne man, who did not want to be named, said dive-bombing gulls have drawn blood twice and had his clothing ripped.
He said the birds "screech all day, from the crack of dawn", in the East Sussex town.
Eastbourne Homes and the borough council said they were "open to ideas" to tackle the problem.
The man said the situation, which never used to be as bad, had been made worse by people feeding the birds.
He said in the worst incident, he was attacked by two gulls at the same time.
But, he said the noise was the biggest problem.
"Sleep patterns are ruined, concentration levels from trying to be self-employed are harmed as well because I can't sleep properly," he said.
"I get ear infections quite regularly because I wear ear plugs every night and you just don't want to go outside."
Eastbourne Homes is responsible for many properties in the neighbourhood.
In a joint statement, the company and the council said ensuring people and seagulls lived in harmony was "a challenge" for all seaside towns.
"The legal measures available to a social landlord are limited and there are no local bye laws restricting the feeding of any birds," it said.
The statement said both organisations worked "to educate residents to understand how feeding or careless rubbish disposal could impact on others".
Related Internet Links
The BBC is not responsible for the content of external sites.