Ashington family offer £12,500 reward after break-in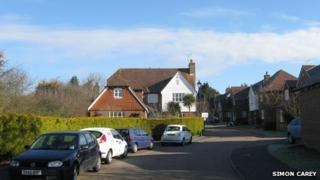 A £12,500 reward has been offered by the family of a mother and daughter who were injured when they were attacked by intruders at their home in West Sussex.
Rebecca James and her daughter Shannon, 16, needed stitches to wounds inflicted when they were hit on the head with a weapon during the break-in last August.
Ms James' partner Graham was also in the house in Cricketers Close, Ashington, and was hit in the stomach.
The reward is for information leading to the conviction of those responsible.
Speaking about the ordeal for the first time, Ms James, 42, recalled how the family had gone to bed just before 21:00 BST on 29 August, but were disturbed by banging on the front door a short while later.
'Saved my life'
She said there were shouts from outside of "Police, police" before two men wearing balaclavas burst through the door.
"One of the men was carrying a sledgehammer and hit me with it as I was coming down the stairs," she said.
"The one with the crowbar came up the stairs and tried to hit me and caught me on the hand.
"He then tried to swing again but missed.
"Shannon was suddenly there and said, 'Leave my mum alone'."
Shannon added: "The second man hit me with a crowbar as I came down the stairs."
Green car
The offenders then left empty-handed without asking for money or jewellery.
Shannon was left with a permanent scar on her forehead, which she said was hard to live with.
"I think about that night every day and I wake up every night," she said. "I jump every time I hear a bang.
"I just want to know who did this and why."
Det Con Katy Lewis said both men were described as white and tall, and were wearing black clothing and balaclavas.
Sussex Police appealed for anyone who saw a green VW Golf being driven in Ashington either before or after the break-in to contact police.
It was found burnt out in Post View, Storrington, the next day.