Gatwick Christmas flood communications were 'poor'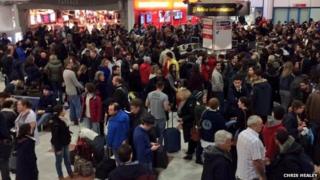 Communications between Gatwick airport and passengers during Christmas Eve disruption were "disappointingly poor", according to a report.
Thousands of passengers had travel plans ruined when electricity sub-stations at the airport flooded, cancelling 145 flights.
The report calls for an urgent review of flood prevention plans and better focus on passengers' welfare in future.
Gatwick said it had set aside £30m to help implement the recommendations.
Power cuts in the north terminal meant that Christmas Eve departures, apart from British Airways, were switched to the south.
Some passengers then waited for 12 hours before being told to go home because their flights had been cancelled.
Conditions were described as chaotic and police were called in to help staff deal with passengers the airport said were "extremely upset".
Standby systems
The disruption is being investigated by the Civil Aviation Authority but Gatwick set up its own review led by David McMillan, a non-executive director of the West Sussex airport.
His report makes 27 recommendations including:
Making plans to protect the airport's "critical assets" against one-in-100-year floods and rainfall
Removing sensitive equipment, including IT, from basements susceptible to flooding
No shift between terminals unless the airport is sure it is practical
Standby systems such as loud hailers and whiteboards to communicate with passengers
Greater focus on passenger welfare such as refreshments, rebooking and overnight accommodation.
Gatwick said it accepted all the McMillan Report's recommendations.
The airport said said £5m had already been spent to improve the airport's resilience to flooding and up to £30m was available to help implement the findings.
Stewart Wingate, Gatwick's chief executive officer, said: "There are clearly lessons we can learn from the events of Christmas Eve.
"It is important we now look to the future and make the necessary improvements to ensure the airport is more resilient to flooding.
"In addition, we will work with the airport community to improve all aspects of contingency planning, with a particular focus on passenger welfare in times of disruption."