Campaign to save last two pleasure boats in Eastbourne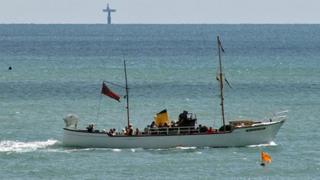 A campaign to raise £500,000 has been launched to save the remains of the last two pleasure boats of a 200-year-old industry in Eastbourne.
The Southern Queen and William Allchorn have not run for a number of years because of vandalism and the recession.
The boats, which had taken tourists on trips to Beachy Head lighthouse since the 1950s, are rotting on the beach.
Now boat enthusiast Lloyd Stebbings wants to raise £15,000 to buy them with the rest needed for restoration.
'Last two'
Mr Stebbings, who runs Pevensey Bay marina, said in the industry's heyday there were 113 pleasure boat licences issued in Eastbourne.
He said: "At one point the pleasure boats were moored along the coast from the Redoubt Fortress to the Wish Tower."
"These are the last two remaining and they represent 200 years of pleasure boat history in Eastbourne."
He said the Southern Queen was completed in 1950 and used to take visitors around the lighthouse with her sister vessel, the Eastbourne Queen.
The William Allchorn was a purpose-built pleasure boat, commissioned by the Allchorn Brothers of Newhaven in 1950, and funded by the Ministry of Defence.
'Rare opportunity'
Both boats have many of the original fixtures and fittings including life rafts and masts and rigging.
Mr Stebbings intends to set up a charitable trust and is appealing for private donations as well as corporate sponsorship.
He said he has had almost a dozen people come forward offering to volunteer to help restore the boats.
"This is a very rare opportunity to help or become part of a restoration project to return the boats to the sea and restore some of Eastbourne's pride as a top UK holiday resort," he added.