'Complex' Brighton phone and internet repairs under way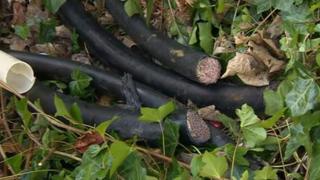 Phone and internet connections are beginning to be restored to homes in Brighton cut off by metal thieves.
About 1,200 homes using the Withdean exchange in the Preston Park area were without connections after the first faults were reported to BT on Friday.
The company said it suffered malicious cuts to underground cabling in "an attack on the network".
The company said engineers were replacing the damaged cable but there was a lot of complex work involved.
"The first people will have seen their services restored today, and we are working to reconnect the remainder as soon as possible," said a spokesman.
BT said it believed the cables were cut by thieves who were preparing to steal wiring from inside.