Raw sewage floods into Winchelsea Beach gardens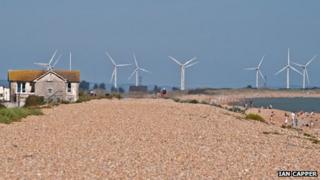 People living in part of East Sussex claim that they are plagued by a problem of raw sewage flooding into their gardens whenever there is heavy rain.
Residents at Winchelsea Beach say that several dozen homes have regularly had their properties affected.
They are calling for more to be done to tackle the problem.
East Sussex County Council said it was working with Southern Water and other agencies to find solutions.
Caroline Nye, who has lived in the area for two-and-a-half years, said: "Whenever it rains the garden floods - which is absolutely fine, it's just water.
"But we've had it tested a few times and it's foul water so it's sewage. It's not just me affected, a lot of my neighbours are affected as well.
"Thank God we're not flooded like some people but it's still an issue because it's sewage."
'Long-term solution'
East Sussex County Council leader Keith Glazier, who lives in the area, said the problem had been happening for "many years".
He said the issue had been "batted" between Southern Water, the Environment Agency and other organisations.
"This year the county council takes on the responsibility of the senior flood organisation and, following consultation with the parish council and others, we've put together a working group that now meets regularly and are looking at finding a long-term solution."
Southern Water, which has been pumping out water from the sewer network, said groundwater levels had risen by 10m (33ft) in five days.
Paul Kent, from the company, said: "It's been the wettest winter on record. We're spending approximately an extra £100,000 a day on managing this situation across the region.
"[In Wincheslea] it's more complex than just the sewage system. It's a low-lying flat area with lots of drainage ditches.
"That surface water is unfortunately finding its way into our sewer and it shouldn't be getting into there - so it's a multi-agency approach."