'Biggest' woodland scheme unveiled in West Sussex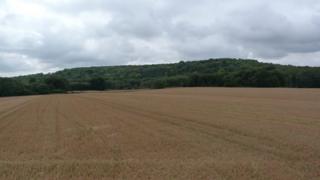 The National Trust has unveiled what it has called its biggest ever woodland restoration scheme.
The project, called the Rise of Northwood, is at Slindon Estate, near Arundel in West Sussex and will see 185 acres returned to woodland.
The 10-year scheme will see trees planted and glades created.
The trust said it would be a major chapter in Slindon's history. An open day was held on Saturday.
Diverse habitat
Senior Ranger Bob Epsom, who has spent six months researching the project, said: "This is not just a case of digging a few holes and popping in some trees."
Slindon Estate is 1,400 hectares of woodland, downland, farmland, and parkland.
It has been managed by the National Trust since 1950.
The charity said the new woodland would provide plenty of diverse habitat with more range for woodland butterflies as well as dormice and bats.
There are over 25 miles of public rights of way on the estate.