Rescue boy 'close to being swept under Chichester'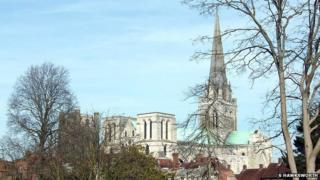 A 12-year-old boy who was pulled from a West Sussex river after playing on a raft was in danger of being swept underneath Chichester, rescuers said.
The boy had to be rescued from the River Lavant in Chichester just after 18:00 GMT on Monday, West Sussex Fire and Rescue Service said.
He was carried "dangerously close" to the culvert pipe which takes the river under the city, a spokesman said.
The boy was rescued by a fire crew using a system of ladders and ropes.
The 12-year-old was playing on a makeshift raft with two friends when he fell into the river.
He managed to pull himself on to a small brick ledge before being rescued by the fire service.
Kim Taylor from the fire service said: "This young lad had a very lucky escape because this could have been a much more serious incident.
"If he had been swept a few more feet downstream into that culvert pipe then I have no doubt we would be talking about a tragic outcome."
The boy was treated at the scene by paramedics for the effects of the cold and shock and taken to St Richard's Hospital, Chichester as a precaution.
The fire service has warned of the dangers of playing in water, especially as river levels have risen after recent rain.