Anti-terror police search Crawley house after Syria bomb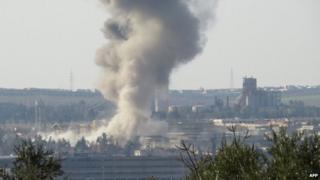 Anti-terror police are searching a house in Crawley, West Sussex, as part of an investigation into a suicide bombing thought to have been carried out by a British man in Syria.
The attack on a prison in the city of Aleppo last week resulted in inmates escaping.
It is believed to have been the first suicide bombing by a Briton in Syria.
An al-Qaeda-linked rebel group, the al-Nusra Front, named the man as Abu Suleiman al-Britani.
However this is believed to be an alias, the BBC's Security Correspondent Frank Gardner said.
Attempted jailbreak
He said the true identity of the bomber might never be publicly confirmed because DNA evidence from the scene would be needed.
South East Counter Terrorism Unit Police are carrying out the search in Martyrs Avenue, Langley Green.
No arrests have been made and no other properties have been searched, the BBC understands.
Chief Inspector Justina Beeken, from Sussex Police, said: "There has been no formal identification of the man and therefore we cannot confirm who he is or where he is from.
"Sussex Police are closely liaising with the South East Counter Terrorism Unit in relation to its inquiries."
It has been reported that hundreds of British nationals have travelled to Syria to fight against government forces.
Most of the foreign militants are thought to be from Saudi Arabia, Tunisia and Libya, but one in 10 are believed to be from Europe.
It was reported by activists that 300 prisoners escaped when a truck full of explosives was driven at the wall of Aleppo prison on Thursday - a claim denied by the Syrian authorities.
Focus of fighting
The attack was believed to be part of an attempted jailbreak by members of the al-Nusra Front and another hard-line Islamist group, Ahrar-al-Sham.
Control was regained of most of the prison on Friday, where up to 3,000 inmates are thought to be held, after a day of clashes which resulted in many casualties on both sides.
Several attacks have been made on Aleppo jail, in the north of the country, in the past few months.
The city has been a focus of fighting between President Bashar al-Assad's forces and rebels.
The conflict in Syria has claimed more than 100,000 lives since 2011 and 9.5 million people have been forced from their homes.