Dane Bowers admits Butlins nightclub abuse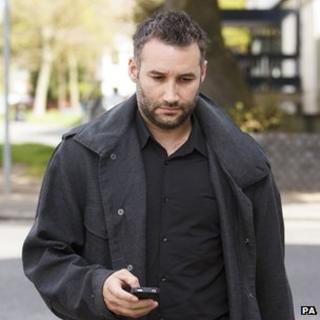 Former Celebrity Big Brother contestant and Another Level singer Dane Bowers has been given a conditional discharge after a row at a Butlins nightclub.
Bowers pleaded guilty to using threatening or abusive behaviour likely to cause harassment, alarm or distress.
Chichester magistrates were told he shouted and swore at door staff when his brother was refused re-entry to the club at the Bognor Regis holiday camp.
He was the headline act at a 1990s night in West Sussex on 20 April.
The 34-year-old DJ, from Kingswood Way, Selsdon, South Croydon, had previously pleaded not guilty to two charges of assault by beating. One of these offences was replaced by the public order offence and the other was dismissed.
The case against his brother, electrician Wade Bowers, 31, of also Kingswood Way, was adjourned to a future date.
He has previously pleaded guilty to possessing cocaine but not guilty to three counts of assault by beating.
'Serious offence'
A third man, builder Terry Kean, 35, of Limpsfield Road, South Croydon, pleaded guilty to possessing cocaine and the same offence admitted by Bowers.
Bowers was given a 12-month conditional discharge and ordered to pay £85 costs and a £15 victim surcharge.
Kean was also given a 12-month conditional discharge and ordered to pay £85 costs for the public order offence. He was fined £50 for the drugs offence and ordered to pay another £85 costs and a £20 victim surcharge.
David Symonds, chairman of the magistrates, said: "It is fortunate this incident did not escalate any further.
"The offence is still serious by the virtue of the fact it was directed at people who were discharging their legitimate duties and they are entitled not to be the target of such behaviour."
Bowers, a former Brit School student, became famous in the late-1990s as a member of R&B band Another Level, and after the group disbanded he sang a duet, Out Of Your Mind, with Victoria Beckham.
He went on to appear in Celebrity Big Brother in 2010.
Bowers is starring in the reality-documentary series The Big Reunion on ITV2.