Utilities moved for £113m Bexhill Hastings link road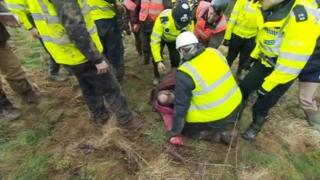 A two-month road closure will come into force in Sussex as work continues on the £113m Bexhill-Hastings link road.
East Sussex County Council said Wrestwood Road westbound would close from Monday in Bexhill and was expected to remain shut until 16 April.
The Ninfield Road bridge is being replaced, and waste, sewage, and gas pipes and electricity and phone cables are being diverted, the council said.
Transport spokesman Councillor Carl Maynard asked people to "bear with us".
The road will be closed between St James's Road and Hollier's Hill.
'Huge benefits'
Utilities will be diverted to a temporary bridge which will also be used by pedestrians, traffic will be diverted, and temporary bus stops will be put in place.
Mr Maynard said: "We appreciate there will be some disruption to residents and motorists but we'd ask people to bear with us while these essential works are carried out.
"The link road will bring huge economic benefits to the area, freeing up land for housing and business development and resulting in an estimated 3,000 new jobs being created, as well as easing congestion on the A259."
The link road scheme met with a series of protests with anti-road activists evicted from trees and tunnels and 28 people arrested last year.
Opponents had claimed the road would destroy the Combe Haven Valley and was a waste of money.
The link road is due to be completed next year.