Ardingly College dinosaur find confirmed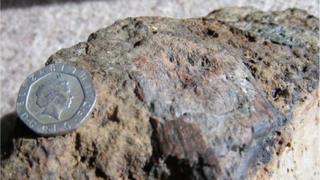 Fossils discovered in rubble at a private school in West Sussex have been identified as those of dinosaurs.
Remains were first found in June at Ardingly College by students and teachers examining rocks during building work for a new boarding house.
Then further investigations found hundreds more fossils including teeth, bones, fish scales, plants and shells.
Now the Natural History Museum and Imperial College have identified some as being about 140 million years old.
'Rocky treasure trove'
Brian Smith, from Ardingly College, had taken his students on a geo-trail when they made the discovery.
He said: "In the rocks in the excavated rubble we saw many freshwater snails, bivalves and plant remains.
"I also found several bones, believed to be from a dinosaur, and a turtle that are 130 to 140 million years old."
He said since then they had found more rocks with teeth, scales and bone fragments.
Dr Susannah Maidment, from Imperial College, said: "We know that Ardingly College sits on a rocky treasure trove of ancient fossils.
Fossil bank
"The problem is we do not usually get access to then because the area is so heavily urbanised.
"The discovery of these fossils is rare."
She said that further examinations were going be carried out by pupils and they hoped to find more ancient fish, crocodiles and dinosaur bones.
A "dig for dinosaurs" event is being planned for villagers in Ardingly as part of a citizen science project.
People will be asked to bring along their own finds so experts can help identify them.
Mr Smith said the aim was to collect, catalogue and curate as many items as possible so a new national fossil bank could be established.