Gatwick runway plans: Lowfield Heath 'ghost village' remembered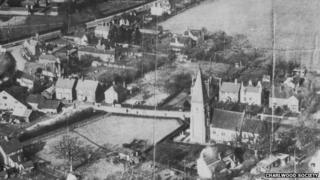 Memories of a village that was demolished as Gatwick Airport grew have resurfaced as campaigners fight plans for a second runway in West Sussex.
Lowfield Heath disappeared in the 1970s after the then Gatwick aerodrome expanded into an international airport from the 1950s onwards. Today the only buildings that remain of the village are its windmill and Grade II*-listed church.
The windmill was moved but the church still stands - surrounded by industrial estates.
Inside St Michael and All Angels, the names of parishioners and their stories can be seen on plaques, World War One memorials and stained glass windows.
And a plaque commemorates a reunion in 1989 of "those who formed the village community at the outbreak of the second world war in 1939 and whose homes and village were subsequently displaced by Gatwick international airport".
Patrick Cox, chairman of the Charlwood Society in Surrey, which opposes Gatwick's expansion, has said the fate of Lowfield Heath should act as a "salutary reminder" of what can happen to a village next to an airport.
He said several small communities had been fighting airport developments in the South East - Stanwell Moor near Heathrow, Charlwood near Gatwick, and All Hallows, near the site of a proposed airport on the Isle of Grain in Kent.
Brendon Sewill, who is now in his 80s and has lived in Charlwood since the age of three, remembers Lowfield Heath as being "a very sad story".
Mr Sewill, the chairman of the Gatwick Area Conservation Campaign, said: "It was a nice little community with a cricket club, a school and a Women's Institute, and people were sad that little community was lost."
'No life'
He said that after the present Gatwick runway was built in 1958, people remained in Lowfield Heath because of a lack of compensation, but life became intolerable by the 1970s because of the noise of airport jets.
But then in 1973 the area became an industrial development zone, which meant residents could sell their homes at "a large price" for warehousing and hangars, he added.
Houses were gradually demolished until the only buildings left were the church and a windmill, Mr Sewill said.
In 1984, local historian Jean Shelley wrote: "Today only the church remains. Once the centre of a happy village, it is now the centre of a community of warehouses.
"No life is to be seen in this ghost village, except each Sunday when morning service is held."
Soon after that, the Lowfield Heath windmill came under threat because the land it stood on was being sold for development. In 1987, it was moved to neighbouring Charlwood.
Then only the church remained, but that fell vacant after the congregation dwindled, Mr Sewill said.
Now the building is used by the Horley Seventh Day Adventists, but it could be demolished to make way for Gatwick's planned second runway, according to Pastor Matthew Herel, who became the minister there last year.
Gatwick said it had been shortlisted by the airports commission as a location for a new runway and would be ensuring community issues were looked at closely.
'Like jewel box'
Pastor Herel, who has researched Lowfield Heath's history, said the villagers left "an indelible imprint".
He said the war memorials inside and outside the church, which was built in 1867 by architect William Burges, were particularly moving.
"A hundred years ago, lives were lost, but we have a record of it," he said.
"They did something really courageous. They laid down their lives for people they didn't know."
He added: "Everything else in this village has gone except this building. That says to me they did leave a legacy - in the physical bricks and mortar and the stories that we have."
Those stories include the death of the village school's head teacher at the age of 36, a tribute to a pilot whose aircraft crashed at Lowfield Heath, a former chorister who was killed in action in World War One, and a series of stained glass windows donated by the Dalton family who lived in the village.
Tom Ashley, from the Victorian Society, said the church was Grade II*-listed which put it in the top 5% of listed buildings, and it had to be considered "one of the finest Victorian churches in the country".
He said William Burges was among the top Victorian architects and his buildings were "like jewel boxes", displaying incredible decoration, innovation and invention.
He said if a second runway was built, which would not be any time soon, the church would be "in the firing line".
But he said: "If it were to happen then there is maybe hope for the church to be moved, as has happened elsewhere."
In a statement, Gatwick Airport said: "London Gatwick has been shortlisted by the government-appointed Airports Commission as one of two locations for where the next runway could go.
"We will now be carrying out more detailed runway studies and will ensure that local community issues and concerns are looked at closely and minimised wherever practicable."
It said the airport would be running public consultation in April and would use responses to refine its options and provide the airports commission with additional and updated information.
Back at the church, the minister said the threat of demolition had loomed over the building for many years.
"As a church we just carry on. There is still no guarantee about what is going to happen. We will carry on worshipping here and leave it in God's hands," he said.