Roman, British and Islamic coin collection sells for £28,000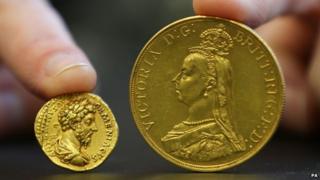 A collection of more than 200 Roman, British and Islamic coins have been sold at auction for more than £28,000.
The coins, passed down by a Sussex family for over a century, included a gold £5 Victoria coin dating from 1887, which went for £1,400.
The sale at Bellmans Auctioneers in Wisborough Green, West Sussex, also saw a coin from Roman Emperor Marcus Aurelius's reign sell for £1,100.
Associate director William Pasfield said the coins were "fascinating".
"Marcus Aurelius as Augustus, just to hold that in your hand... where has it been?" he said.
'Shaved off'
"Was it used to pay a king's ransom or has it been in the ground for a few hundred years?
"The history behind them is fascinating."
Alongside the coins from Marcus Aurelius's reign, between AD161 and 180, the sale also saw coins from the time of Theodosius the Great, who was Roman emperor from AD379 to 395.
He said the Roman coins were not "perfectly round" and that they had "bits clipped them".
"People have shaved off bits of gold to pay for things."
He added that the "Islamic lots didn't do as well as we were hoping but the Roman ones were very strong", which he said was because the area was "in Roman alley".
About a third of the coins were sold to collectors who had attended the sale, another third were bought by phone bidders and the remaining coins were sold to internet buyers.