Brighton Speed Trials given green light by councillors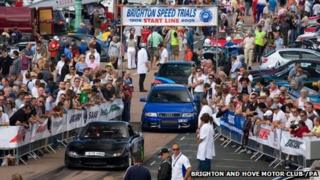 One of the longest-running motorsport events in the UK is to be allowed to continue following a council decision.
More than 12,000 people signed a petition calling for the Brighton Speed Trials to remain amid concerns that councillors wanted to scrap it.
The event was first held in 1905, but was cancelled last year following the death of a competitor in 2012.
It will now go-ahead in September but with amendments, subject to guidance from the Safety Advisory Group.
Co-rider Charlotte Tagg, 38, from Suffolk, was fatally injured when her motorcycle sidecar hit a wall at 100mph.
Rider Roger Hollingshead suffered serious injuries.
A verdict of accidental death was returned at a jury inquest last year.
The event, held on the second weekend in September, sees thousands of people turn out to watch more than 200 cars and motorbikes take a timed run over a quarter of a mile course in Madeira Drive on the seafront.