Valerie Graves murder: 'Interesting calls' follow TV appeal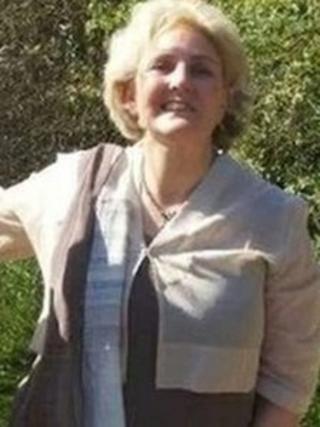 Detectives investigating the murder of an artist in West Sussex are following up a number of calls received after a BBC Crimewatch appeal on Wednesday.
Valerie Graves, 55, was found dead with head and facial injuries in a ground-floor bedroom of a house in Smugglers Lane, Bosham, on 30 December.
She had been house-sitting with her mother, sister and her sister's partner while the homeowners holidayed abroad.
Det Supt Nick May said out of 20 calls, a couple were of "particular interest".
Police think Ms Graves was bludgeoned with a hammer found in the village.
It is about 1ft (30cm) long, with a distinctive red and black handle and is embossed with the words Forge Steel, with a picture of an outline of an anvil.
It was available to buy in branches of Screwfix UK.
Det Supt May urged people to check if they had lost a hammer or had one stolen in the period leading up to the murder.
"We would also ask police officers, prison staff, probation officers and professionals who work in mental health, if they have dealt with anyone who has talked about causing someone harm with a hammer, to let us know," he said.
Officers also want to hear from anyone who saw anything suspicious or unusual in the area near the house from the afternoon of 29 December to 10:00 GMT on 30 December.
A 22-year-old man arrested on suspicion of murdering Ms Graves has been released on bail until 17 February.