Stone Age flints found under Bexhill-to-Hastings link road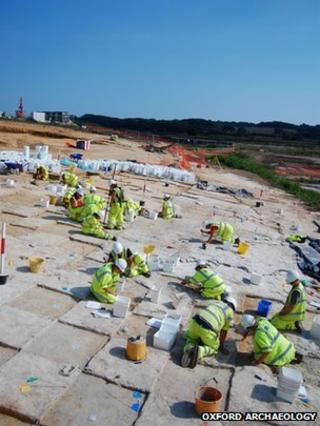 Prehistoric flints and evidence of early Iron Age industry have been found along the Hastings-to-Bexhill link road under construction in East Sussex.
A team from Oxford Archaeology has found evidence of human activity from almost every period since the Ice Age.
The earliest includes flint scatters of possible Upper Palaeolithic, Mesolithic, Neolithic and Bronze Age.
Archaeologists have been working on the 3.5-mile (5.6km) road, which is due to be completed in 2015, since last April.
Their ongoing excavations have been in conjunction with the construction of the road, which will link the A259 and B2092, crossing Combe Haven Valley.
Arrows and harpoons
At one site, on the edge of Watermill Stream, more than 20 separate scatters of worked flints were revealed.
Some of the worked flints are the remains of tools, such as microliths for creating arrows and harpoons.
Some scatters represent camps, whilst others are evidence for short-stay hunting sites close to wetlands.
Other discoveries include a probable Bronze Age field system and track-way, and late Iron Age and early Roman iron working sites near Hillcroft Farm in Crowhurst, and Upper Wilting Farm, in St Leonards.
East Sussex County Archaeologist Casper Johnson will be giving an illustrated talk about the excavations at Hastings Museum and Art Gallery later.