Father determined to find Sussex soldier's stolen medals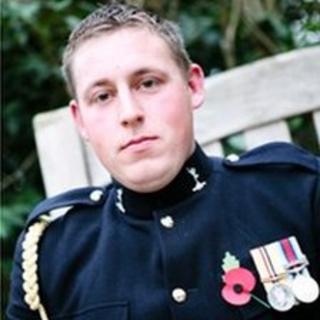 The father of a West Sussex soldier whose medals were stolen in a burglary before he emigrated to the US has vowed to do all he can to find them.
Campaign medals for Afghanistan and Iraq, along with a Diamond Jubilee medal, were taken from a flat in Updown Hill, Haywards Heath, last February.
They are all engraved with "Lance Corporal Samuel Ferguson 25164131".
Dean Ferguson said he was determined to reunite his son, who is now living in Chicago, with the original medals.
'Online searches'
"We can obtain replacements from the Army, but it's not the same as having the originals that were originally pinned on his chest," he said.
"We've been looking out in shops, advertisements and online and we've been posting messages on relevant websites in a bid to find them."
Mr Ferguson said they were the only parting gift he would have liked to have given his son before he left the UK on 27 December.
Det Con Julie Beckwith, of Sussex Police, said there had been no arrests in relation to the burglary.
"The medals are not of significant monetary worth, but their sentimental value is incalculable and we would all like to see Sam reunited with them," she added.