Discovery New School governor appeals to minister over closure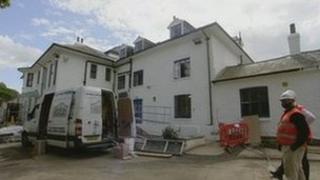 The chair of governors at a free school ordered to close because of poor teaching standards will appeal for it to stay open at a meeting with the schools minister.
Discovery New School, in Crawley, West Sussex, is due to shut in April.
On Tuesday, governor Chris Cook will meet Lord Nash, who ordered the closure of the primary school last month.
An Ofsted inspection team had warned there was a risk of children leaving the school unable to read or write.
Crawley MP Henry Smith and Philip Bujak, chief executive of the Montessori St Nicholas charity, will also attend the meeting.
Mr Cook said: "I am asking Mr Nash to extend government support until at least the end of the school year.
"At that stage, I am confident that we will be able to demonstrate delivery to our plan, which could allow the school to remain open.
"It would also reduce disruption to the education of any children needing to be moved to a new school at the time."
Discovery, a Montessori school, opened in 2011 and was one of the first free schools in the UK.
It was put into special measures in May following criticism by an Ofsted inspection team.
It was finally ordered to close in December following two more inspections.