Clearing up Littlehampton beach after storm surges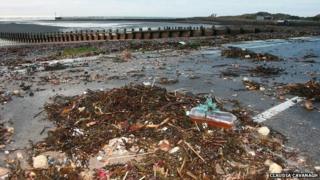 Volunteers have helped clear up items washed up on a West Sussex beach by recent storms and tidal surges.
Adults and children, including the 5th Littlehampton Sea Scouts helped in the clear up of the town's beach on Saturday morning.
Event organiser Lyndall King said: "[We] have been seeing huge amounts of plastic, netting, pens, matted baby wipes and other harmful detritus."
She wrote on Facebook: "The beach looks infinitely better."
Clare Linney posted: "The children and I had a lovely morning and found all sorts of interesting things - some nice and some rather yucky like dead birds and lobsters."