Balcombe fracking: Campaigners cleared over log protest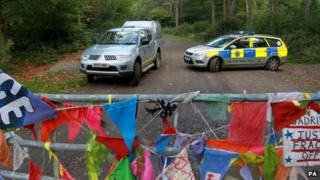 Eleven fracking protesters have been cleared of obstructing the highway by sitting on or around a log during a demonstration in Balcombe.
The protests took place outside the Cuadrilla test drilling site in West Sussex over the summer.
It was claimed the protestors pulled a log across the entrance of the exploratory oil drilling site, which they then sat on or around, on 26 July.
They were acquitted at Brighton Magistrates' Court on Thursday.
Frances Crack, 31, from Cardiff; Paul Deacon, 50, from Worthing, West Sussex; Samantha Duncan, 30, and Richard Millar, 30, both from Brighton; Ian Freeston, 52, Ezra Lynch, 31, and Mark Mansbridge, 52, all from Lewes, East Sussex; Justin Preece, 44, from Pontypridd, Wales; and Marcin Swiercz, 36, and Nancy Walker, 25, both from London, were all cleared.
Michael Atkins, 37, of Westbury, Wiltshire, was also cleared of assaulting a police officer by throwing hot tea at her.