Brighton and Hove residents angry over uncollected rubbish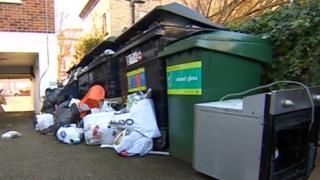 Residents in Brighton and Hove have spoken of their anger that rubbish in some areas has not been collected since before Christmas.
It comes after a six-week dispute between refuse workers and the council over the summer.
Resident Julie Middleton said she had been forced to pick up dirty nappies and sanitary towels.
The council said crews were "working hard" to catch up on missed collections.
Streets around Portslade, Angleton and Hove have been affected.
Ms Middleton said: "It's not fair. I've been out myself with rubber gloves on and picked up nappies and dirty sanitary towels because I don't want to have to look at this and none of our neighbours do.
'Just horrendous'
"I know that it's not their fault, I know they've got a bad job to do, but we've all got bad jobs that we have to do.
"Normally the service is pretty good but this is horrendous," she added.
"We all pay our council taxes - why have we been left?"
Dennis Woolmer, a caretaker at a block of flats, said the service had become so unpredictable, he was keeping a diary of collections.
"It's just been horrendous," he said.
"We've had so much rubbish it's covered the whole of this [garage] area and we've had nothing but foxes and squirrels coming in and they've left turkey bones all over the car park.
"It's an environmental health issue."
Refuse and recycling workers began an unofficial strike in May last year, followed by a week-long strike in June in response to the Green Party-led council's plans to reduce their pay.
In July, GMB union members voted to accept a revised offer.
'Transition period'
Mark Turner, from GMB, said the decision to take five refuse lorries off the streets had made routes unmanageable, and claimed that the problem would get worse.
He said: "Even if they get back to an even keel this coming Monday, the backlog will only be created again because the rounds are too big, the workforce can't get the work done in the specified time."
Geoff Raw, executive director of the council, said the authority was making "enormous changes" to its waste collection and recycling services, which would ultimately improve the service for residents.
"But the transition period has not been as smooth as we would have hoped for," he said.
"Over the Christmas period we made contingency arrangements for agency staff to cover the voluntary weekend shifts and we were supplied with as many HGV drivers as the agency could supply.
"Crews and the management team are working very hard to catch up on missed collections as promptly as they can despite the recent weather conditions."
He added: "I really appreciate how difficult this has been for some residents and as a resident myself please be assured we are doing everything we can to get the waste collection service back on track."