Pagham's new flood defences to be rebuilt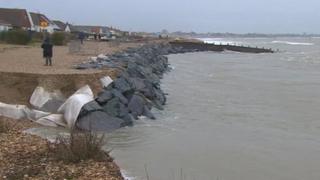 Flood defences finished less than three weeks ago will have to be rebuilt after they were damaged in heavy storms.
Sections of the £600,000 shingle and boulder barrier at Pagham, West Sussex, have collapsed in the last week.
Allen Miller, whose garden opens on to the beach, said he could not sleep at night for worrying about what would happen to his home.
Arun councillor Paul Dendle said that if the revetment had not been there, homes would have been severely damaged.
The flood defence was built by Arun District Council and paid for by several different organisations.
"Of course, we need to do remedial work and we need to get it back," Mr Dendle said.
"Contractors are going back on site this morning.
"These defences were only completed on 19 December and they were tested for the first time by a one-in-30-years event."
Mr Miller said the new defences finished half-way across the front of his property, which was now directly in the path of the waves.
"When we first moved here 11-and-a-half years ago it was a lovely place to be but it has got extremely dangerous now."
Resident Di Wilson said it had been a very stressful fortnight.
"The revetment is not doing its job. The stream of water that comes through is terrific," she said.
Mr Dendle said all the agencies involved had agreed the revetment was the correct defence.
Another solution, cutting through a growing spit at sea, would cost "a tremendous amount of money".
"It is very easy in hindsight to say you should have done something differently but I think we have done a job to protect the community," he said.
Arun District Council said in a statement the revetment suffered minor damage.
It said it would consult the Environment Agency and English Nature about possible options for any future works and assess sources of funding.