Pagham Beach closed as Sussex sea defences damaged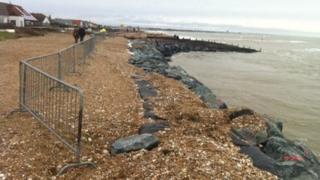 A West Sussex beach has been cordoned off after strong tides damaged recently completed sea defences.
Solent Coastguard said flood defences at Pagham Beach, near Chichester, had been breached and part of the shingle bank washed away.
People have been urged to keep away from the area which is very dangerous, a spokesman said.
Arun council was responsible for the sea defence which was completed in December, the Environment Agency said.
Road closed
"The safety message from all the agencies is that this is a hazardous area and there is no reason for members of the public to be down there," a coastguard spokesman said.
BBC reporter Simon Jenkins said large areas of the shingle bank and large boulders, which all formed part of the flood defence scheme, had been washed away over the past week.
Travel reports said Harbour Road, near Lagoon Road, had been closed because of coastal flooding.
The Environment Agency said the Pagham community was at risk from flooding both from the open coast and from within the harbour.
It said it had not received any reports of coastal flooding affecting any properties in the past few weeks.
"Our defences within Pagham Harbour have performed as expected and prevented flooding to approximately 88 properties in Pagham village," an Environment Agency spokeswoman said.
"The ongoing prolonged period of stormy weather has caused increased erosion along the entire south coast. We are aware that the rock revetment at Pagham Beach has suffered some damage."
Cliffs collapse
The Environment Agency said the revetment - a barrier that absorbs wave energy - was completed in early December and was the responsibility of Arun District Council which would carry out repairs.
The agency said it contributed funds for the defence and would continue to work closely with the authority.
Other parts of the Sussex coastline have seen cliffs collapse during storms and tidal surges.
A 9ft (3m) stretch of cliff at Birling Gap fell into the sea on Saturday, and part of a cliff collapsed into the waves at Rock-a-Nore, near Hastings, on Friday.
The Environment Agency has warned the south coast remains at risk of coastal flooding throughout the weekend and early into next week.