Brighton railway station improvement work starts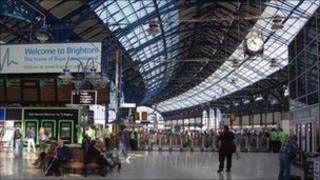 A major scheme to improve the area around Brighton railway station is due to begin on Monday.
The first phase of work will see Surrey Street closed to all traffic until March while the road is repaved with a wider footway and resurfaced.
Brighton council said a contraflow lane on Queen's Road would be reopened while the work was carried out.
It said all traffic apart from HGVs would be redirected, and HGVs would be sent on a different route.
A ban on right-turns from Terminus Road into Guildford Road would be suspended, the council said.
The council's lead member for transport, Councillor Ian Davey, said thousands of people used the station each day but the area outside provided "a poor welcome".
He said the improvement scheme would provide a simplified road layout, removal of street clutter, wider pavements and more trees.