Bosham house-sitter murder victim named as Valerie Graves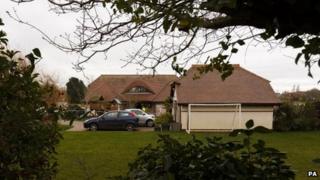 A woman who was found murdered while house-sitting in West Sussex has been identified by police.
Valerie Graves, 55, was staying at the property in Smuggler's Lane, Bosham, near Chichester, with her family while the owners were on holiday.
Ms Graves, of Bracklesham Bay, was found dead at the house on Monday, having suffered a serious head injury.
Sussex Police said she had two adult children.
Det Supt Nick May said Ms Graves and three of her family members had been house-sitting at the house since 23 December.
He said a definite cause of death had not been established, but that Ms Graves had appeared to have some sort of head injury.
'Incredibly rare'
"Her body was found by a member of her family and at first they called the ambulance service, who contacted Sussex Police," he said.
He said the family that owned the house were out of the country on holiday.
Ch Insp Tanya Jones said the crime was very rare for the Bosham and Bracklesham Bay area.
"These are really low crime areas where we have hardly any residential burglaries or acquisitive crime or any violence of that magnitude," she said.
"It's incredibly rare for that community."
She said additional patrols were in place to reassure residents and that officers were conducting house-to-house inquiries.
A neighbour, who did not wish to be named, told the Press Association: "They [the owners] have people staying in the house while they are away for the holidays, it could be friends, it could be family.
"It is not rented out, people come because it is a nice place to visit.
"I am just very sad for our neighbours and for everybody.
"You can't imagine coming back from holiday to this, it must be just horrendous."