Gatwick offers £100 vouchers after Christmas Eve chaos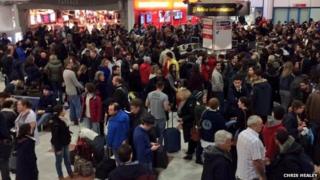 Passengers whose flights were cancelled at Gatwick Airport after it was flooded on Christmas Eve are to be offered £100 of shopping vouchers.
The airport said the high street vouchers were a gesture of goodwill in recognition of the "exceptionally difficult" circumstances.
Thousands of passengers had their Christmas travel plans ruined after power cuts at the north terminal.
In all, 62 departures and 59 arrivals were cancelled.
Gatwick said a full review into what happened would be undertaken by David McMillan, former director general of Eurocontrol, the European Organisation for the Safety of Air Navigation, and a non-executive director of the airport.
The report and his recommendations will be published in February.
The disruption at the West Sussex airport is already being investigated by the Civil Aviation Authority.
Christmas Eve departures, apart from British Airways, were switched to the south terminal after electricity sub-stations at the airport were flooded.
Chaotic conditions
Some passengers were at Gatwick for as long as 12 hours before being told to go home because their flights had been axed.
Conditions were described as chaotic and police were called in to the terminal help staff deal with passengers the airport said were "extremely upset".
There has been a mixed reaction to the offer, with some Twitter users expressing surprise that Gatwick bosses were apologising for a weather-related incident.
Others, however, thought the offer was too small or said it should be extended to those who were delayed for hours but eventually got a flight.
One social network user called Brian tweeted: "Gatwick airport's offer of vouchers an insult to those delayed at Xmas", while George Watts wrote: "What about passenger like me? I had a 8 hour delay only to be told no luggage would travel, I cannot ski with clothing!"
Chris Royall wrote: "Maybe next time, people should travel earlier, rather than at the last minute!"
Scott Ward tweeted: "Commendable customer service when the level headed passenger will understand it was out if the airport's control."
Gatwick chief executive Stewart Wingate said: "We appreciate that lots of our passengers were travelling to be with their families over the festive period and we are sorry that flights were cancelled and passengers left disappointed, particularly at this time of the year."
The airport said exceptionally heavy rain before Christmas caused all local waterways around Gatwick to flood.
The flood waters significantly exceeded flood impact projections, which caused partial loss of power to the north terminal.
It said a full schedule of flights operated on Christmas Day, Boxing Day and every day since.
Passengers whose flights flights were due to depart or arrive on 24 December should email customer services with evidence of their booking and their postal address.
Vouchers for £100 will be posted with 28 days, the airport said.
It said the vouchers were being supplied through a scheme which covers hundreds of brands, including Marks and Spencer, John Lewis, Sainsbury's and Currys and were effectively cash.