Chichester Cathedral fund-raiser Leslie Weller appointed MBE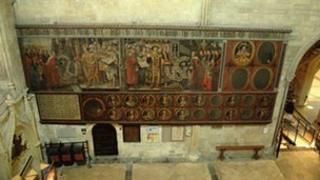 A fund-raiser who has played a major part in the restoration of Chichester Cathedral over the past 30 years has been recognised by the Queen.
William Leslie Weller, 78, of Horsham, West Sussex, has become an MBE after helping to raise more than £10m.
Mr Weller was the first chairman of the cathedral's restoration trust.
In the past two years he has also been involved in the restoration of the cathedral's panel paintings by 16th Century artist Lambert Bernard.
East Sussex County Council's former director of children's services, Matthew Dunkley, becomes a CBE.
Mr Dunkley left the council in May after 21 years to take up a job in Australia.
Also appointed CBE is Rear Admiral Richard Lippiett, chief executive of Portsmouth's Mary Rose Trust, who lives in Bosham, West Sussex.
Among Sussex residents appointed OBE are Aideen Jones, from Seaford, formerly chief executive of the Southdown Housing Association and David Spofforth from Arundel, president of the Institute of Chartered Accountants in England and Wales.
Those who become MBEs include Paul Dedman, from Steyning, for his work for St John Ambulance and Pauline Carder, from Arundel, chairman of Arundel Museum Society.